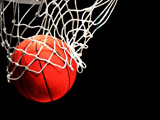 Azeri National Men's basketball team met Swedish counterparts in "Sehedchi" sports complex in Baku. This was the 4th game, as part of the European Championship, in division "B". Unfortunately, Azeri team could no stick to Swedish team, as the game ended with a 73:101 score. Below is how the teams rank up now:
RANKINGS
1. Sweden - 7 points (4 games)
2. Romania - 7 points (4 games)
3. Azerbaijan - 7 points (4 games)
4. Belarus - 5 points (4 games)
5. Albania - 4 points (4 games)
Second round of the Championship will be played out in August next year. Winner of the group (and possibly the 2nd team) will have a chance to play, for earning the right to participate in the "A" division games among the strongest teams of the continent.
/1news.az/
Related articles:
Azerbaijani national basketball team overpowers Romania
Azerbaijani National Basketball team overpowers Albania