Day.Az has awarded the best sportsmen of the decade based on the readers' survey on its Web site.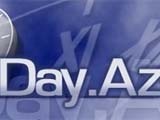 A survey conducted on the Day.Az Web site to identify the best Azerbaijani sportsmen of the last decade has selected three winners - Farid Mansurov, Elnur Mammadov and Teymur Rajabov.
The winners of the readers' survey were awarded valuable gifts from the agency at a ceremony held to award the best sportsmen and sport organizations in Buta Palace on Dec. 24.
As many as 15,488 readers voted in the survey.
Day.Az
Click to enlarge: