Today, the Azerbaijani national team will play its last match in the qualifying round of EURO-2024.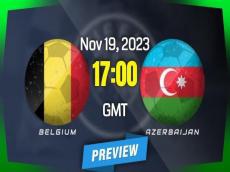 Azernews informs, citing Report that the Belgian national team will be a guest of the team coached by Gianni De Byazi.
The match, which will take place at the "King Baudouin" stadium, will start at 21:00 Baku time.
The match will be managed by the Hungarian referee team headed by Gergo Bogar. The hosts are second in Group F with 17 points. The Azerbaijani team is ranked 4th with 7 points.
In the other game of the group, Sweden will host Estonia.
EURO-2024, qualifying round game
21:00. Belgium - Azerbaijan
Referee: Gergo Bogar (Hungary)
Brussels. "King Baudouin"