On September 9, the Azerbaijan national football team will play its next match in the Euro 2024 qualifying stage against Belgium within the V round, Azernews reports.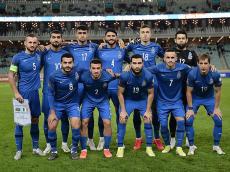 The match with the group favorite will be held at Dal?a Arena. The chances of Gianni de Biasi's team, which has only 1 point in the first three matches, are not so high. The Belgians, ranked 5th in the FIFA ranking, are considered the favorite of the match.
It should be noted that the Azerbaijani national team will play a friendly match against Jordan on 12 September.
Euro-2024 qualifying stage
Tour V
Group F
17:00. Azerbaijan-Belgium
Head referee: Nenad Minakovic (Serbia)
Points: Austria - 10 (4 games), Belgium - 7 (3), Sweden - 3 (3), Estonia - 1 (3), Azerbaijan - 1 (3).
Belgium won the first 3 matches without conceding a single goal. Still, the previous match between the two teams, which took place in 2011, ended in a 1-1 draw in Baku.