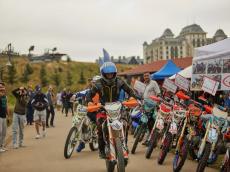 Nearly 300 motorcyclists have gathered in Shahdag Mountain Resort to feeling a rush of adrenaline.
For two days motorcyclists tested their strength in the 1st Shahdag Motorcycle Festival, Azernews reports.
Motor racing enthusiasts came together to show their best in different contests, including "powerful motorcycle", "stylish motorcycle", "experienced motorcyclist", as well as in competitions in long-distance swimming, arm wrestling, etc.
The winners were presented with a number of awards. During the event, motorcyclists held free professional training for the guests of the resort.
As part of the festival, which aroused great interest from both local and foreign tourists,
Show programs were also organized for motorcyclists and the festival guests as part of the event.
Note that
The Shahdag Mountain Resort is ideal for tourists of all ages. Well-known as the country's first ski resort, the resort is located in the Shahdag National Park, 32 km off Gusar District, 2,350 meters above sea level.
The resort plays an important role in the development of winter tourism in the country. Local and foreign tourists are showing great interest in winter tourism. All conditions for this have been created in Shahdag.
Shahdag Mountain Resort's hotels can accommodate a total of 1,200 people. On weekends, the center receives 8,000 tourists.
In 2023, Russia's TurStat analytical agency listed the Shahdag Mountain Resort among the TOP 5 ski resorts in the CIS.