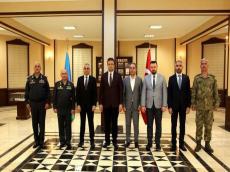 Fuad Najafli, the plenipotentiary representative of the President of the Republic of Azerbaijan in the Nakhchivan Autonomous Republic, came to the Army Headquarters of the General Army on September 9 and inquired about the cases of violations of the ceasefire regime and the measures taken as a result of the provocative activities of the other side related to the tension that arose on the contact line with the Armed Forces of Armenia, Azernews reports, citing local media outlets.
The local bureau of "Report" informs that Fuad Najafli also met with the General Manager of ASELSAN company of Turkey, Ahmet Akyolu, who was visiting the General Army in Alahidde at the army headquarters.
During the meeting, information was provided on joint activities and existing projects, ideas were exchanged for the purpose of developing and further expanding cooperation in the future.