Minister of Education Misir Mardanov received invitation to pay an official visit to Iran.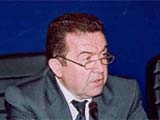 The invitation from the Iranian Minister of Science, Researches and Technologies has been handed over by the Iranian Ambassador to Azerbaijan Afshar Suleymani, the Education Ministry told Trend.
Perspectives of cooperation of the both countries in educational field, exchange of students and teachers have been discussed at the meeting; necessity to identify the specialities needed to the both states has been noted.
The Iranian Ambassador said during his talk with the Minister, about 150 students from Iran are currently studying in Azerbaijan and he stressed the necessity for carrying out work to increase the number of them in future. The diplomat came also out with the initiative to hold meetings of the Minister with the Iranian students for studying and resolving their problems.
Mardanov entrusted his employees to prepare the yearly action plan according to the agreement on cooperation signed earlier between Azerbaijan and Iran in educational field.