The employees of the Azerbaijani Ombudsman's Institute held a check-up at the remand prison 1 of the Central Department for Execution of Court Sentences under the Azerbaijani Justice Ministry.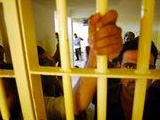 During the conversation with the law-defenders the prisoners complained of partiality of the court sentences, made in regard to them, and asked to assist in objective holding of the investigations, the Ombudsman's Institute told Trend.
The representatives of the Ombudsman's Institute held check up at the prison, got familiar with the keeping conditions of the prisoners, had a talk with them and showed interest in existence of problems.