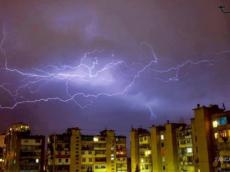 On April 27 night Baku sky hosted a ceremony of a unique natural phenomenon -  endless gloss of the lightnings replacing each other. Picturesque and scary lightnings enveloped the city darkness with eye catching dance and magnetized all attention
. Bakuians have witnessed the same show early in the April. 
Azerbaijani Facebook users shared the photos of that rarely seen parade of the lightnings in Baku. Words emerge weak to fully express that beauty, worth to see it.
Photos by Anar Abbasov, Dashgin Ismayilov, Ilkin Orucoglu, Nicat Nazarov, Tarlan Novruzov, Nigar Bagirli, 

"Qafqazinfo", 

Rafik Quseynov, Sabina Magomedova, Ruslan Axundov