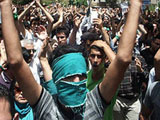 There have been clashes between police and protesters gathered in several parts of Tehran to protest the alleged imprisonment of two main opposition leaders - Mir Hossein Moussavi and Mehdi Karroubi. The police used tear gas to disperse the crowd, the kaleme.com website reported.
The opposition Kaleme website reports that shootings have been heard in Enqelab Square in Tehran, but there is no report on wounded.
The website reported that the police and security forces have restricted movement in the streets connected with the Enqelab Square, but despite this, the number of protesters is increasing. About 50 people have been detained.
The authorities had restricted the comings and goings at home of Moussavi and Karroubi. Currently there is no exact report on where the opposition leaders are detained. However, Fars news agency reported that currently they are detained at a house organized by the security forces. Karroubi's Saham News website reported that the opposition leaders have been detained in Heshmatiye prison.
Protest actions also took part in other cities of Iran: Tabriz, Shiraz, Isfahan, Kermanshehr, Karaj and Simnan, Kaleme.com reported. There were clashes between police and protesters.
/
Trend
/