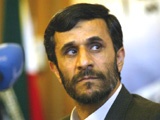 One bought Iranian President Mahmoud Ahmadinejad's car of brand Peugeot 504, 1977 model year, which was auctioned at an exhibition of classic cars, for $2.5 million, the Iranian econews.ir website reported.
An Iranian entrepreneur bought the car. Owner will receive the car today.
President Ahmadinejad's Peugeot-504 was put up for auction on Nov. 21, 2010. Iranian Social Protection Minister Sadeq Mahsuli said the president made the decision at the conference on building homes for charity.
The conference was held on Nov. 20 within the "Maskan-e Mehr" housing construction program, which aims to solve housing problems for low income families.
He added that Ahmadinejad took the step to assist low-income families and provide them with housing. "At the moment, the car has been put up for international auction and its cost will soon be made public," Mahsuli said earlier.
/
Trend
/