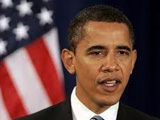 U.S. President Barack Obama and Turkish Prime Minister Recep Tayyip Erdoğan agreed in a telephone call Friday that Libyan leaders must be held "accountable" for their protest crackdown, officials said.
"The president and the prime minister expressed their deep concern about the Libyan government's use of violence against its people, which is completely unacceptable," the White House said.
The leaders discussed "appropriate and effective ways for the international community to immediately respond," the White House statement said.
"They discussed the range of options that both the United States and Turkey are considering to ensure the security of our citizens in Libya and hold the Libyan government accountable for its actions."
The leaders also discussed measures that might alleviate the increasing humanitarian toll of the crisis.
The call came as the United States seeks to enlist a broad international coalition of states in a bid to halt the crackdown by the Libyan government against protestors threatening the rule of Moammar Gadhafi.
Later Friday, the U.N. Security Council is due to meet, as Washington and its allies seek sanctions and other methods to punish the Libyan government.
After being accused of acting too slowly to stem the civilian toll of violence that reports says has cost around 1,000 lives in Libya, the United States is increasing calling for the government to be held to account and for "immediate" steps to stem the bloodshed.
/Hurriyet Daily News/