Turkey's finance minister set on Wednesday the government's priority as maintenance of stability.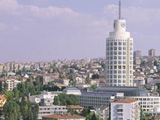 Mehmet Simsek said the government had given priority to maintaining stability, and the budget deficit was 1 billion Turkish liras (TL) in January 2011.
"We have set a strong target for 2011, and we will achieve our target," Simsek told a televised interview.
Simsek said the government aimed to decrease the proportion of public deficit to national income to 2.1% this year.
Moreover, Simsek said the government would encourage production of electric cars, and authorized the Council of Ministers to reduce and even lift the special consumption tax in electric cars.
Simsek also said Turkey would maintain financial discipline. The 2011 Central Government Budget ran a surplus of 1 billion TL in January 2011. Budgetary expenses were 22,494,000 TL and revenues were 23,499,000 TL. The Central Government Budget in January 2010 ran a deficit of 3,121 million TL.
Primary surplus grew by 62 percent over January 2010 to reach 4,809 million TL in January 2011.
/World Bulletin/