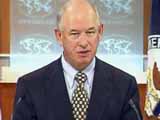 The United States will continue to engage Turkey, Azerbaijan and Armenia in the process of normalizing the Armenian-Turkish relations, U.S. State Department spokesman Philip Crowley said at a news briefing on Monday.
"The U.S will continue to engage Turkey, Armenia, Azerbaijan in this process, and see how we can move forward," he said.
He said that Washington places a great deal of emphasis in the issue. "The Secretary herself has been fully engaged in this," he said.
He said that the U.S takes into account all the obstacles to progress.
Turkish and Armenian foreign ministers Ahmet Davutoglu and Edward Nalbandian signed the Ankara-Yerevan protocols in Zurich Oct. 10. But the protocols were not ratified in the parliaments.
Diplomatic relations between Armenia and Turkey were broken due to Armenian claims of an alleged genocide and its occupation of Azerbaijani lands. Their border closed in 1993.
/
Trend
/