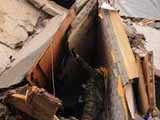 A landslide killed at least six people in a village of Midyat town of the southeastern province of Mardin, officials said on Wednesday.
"Four other people have been injured, two of them are in critical condition. There are several others thought to be buried in the landslide," local governor Fatih Akkaya told the AA.
However, Mardin's governor Hasan Duruer said there was no one left buried in the ground in Baristepe village, so rescue works have been completed. The landslide struck Wednesday afternoon while a group of villagers were digging a hole in earth to make a ground oven, officials said.
/World Bulletin/