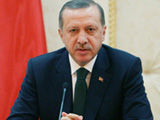 Turkish Prime Minister Recep Tayyip Erdogan said, "22 people including 10 police officers and 12 passersby were injured when a terrorist detonated the bomb wrapped around his body in Taksim Square earlier today."
Prime Minister Erdogan told reporters on Sunday during a visit to the southeastern province of Mardin, "I want to reiterate once again that we will never allow those who aimed at disturbing Turkey's tranquillity, stability and security. Such attacks will not prevent us from fulfilling our targets of unity and development."
"Our unity and solidarity will be the best response to those who try to prevent development of Turkey. They try to prevent dams like Ilisu, greenhouses built to employ tens of thousands of people and creation of a industrialized and modern Turkey. We are determined to maintain our progress. We will build schools and hospitals. We will do everything in our power to improve living conditions in our villages," he added.
/World Bulletin/