Ahmet Davutoglu, who has become the first Turkish foreign minister ever to visit Uighur Autonomous Region in China, toured historical sites in Kashgar city.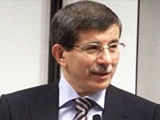 Davutoglu and an accompanying Turkish delegation arrived early Thursday in Kashgar in the extreme west of China and the extreme southwest of Uighur region.
Davutoglu first visited the tomb of Mahmud Kashgari and then they toured the tomb of Yusuf Has Hajib as well the 500-year-old Id Khah Mosque, the largest mosque in China.
"We are visiting the land of our ancestors," Davutoglu said.
Following his visits, Davutoglu attended a dinner hosted in his honor by leading figures of Kashgar, a junction between two branches of the old Silk Road. The 350,000 population of the city is mostly Uighur Turks.
Davutoglu said he started his tour of China from Kashgar, one of the most important cultural spots of the Turkic world and home to two prominent Turkish intellectual figures in history.
Mahmud Kashgari was an 11th century Turkic scholar and lexicographer of Turkic languages who studied Turkic dialects of his time and wrote the first comprehensive dictionary of Turkic languages, the Diwanu l-Lugat al-Turk.
Yusuf Has Hajib was an 11th century Uyghur scribe from the city of Balasaghun, the capital of the Karakhanid Empire, who is famous for his work Kutadgu Bilig, which reflects the author's and his society's beliefs, feelings, and practices with regard to quite a few topics, and depicts interesting facets of various aspects of life in the Karakhanid Empire. Kutadgu Bilig means something like "the wisdom which brings happiness" or "the wisdom that conduces to royal glory or fortune", but has been translated more concisely as "wisdom which brings good fortune."
"My visit to China is important in a few aspects. We will hold important talks on cultural, economic and political relations," Davutoglu said. "Enhanced relations between Turkey and China would also relieve our brothers and sisters in Xinjiang Uighur Autonomous Region."
Davutoglu will head for Urumqi later in the day after his visit to Kashgar.
/World Bulletin/