An earthquake measuring 5.9 on the Richter scale took place near the Damghan city of Iran's Simnan Province at 23:53 last night, FARS news agency reported.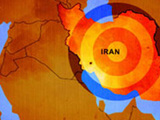 The quake killed 3 people, including 2 kids, and injured 40.
The earthquake damaged the Kedu, Bidastan, Fetuh and Kuhzar villages.
Following the first tremor, an earthquake measuring 5 and two earthquakes measuring 3 on the Richter scale jolted the Simnan province again.
/Trend/