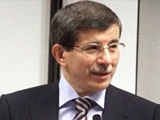 Foreign Minister Ahmet Davutoğlu says there is now an optimistic process in the Turkish-Greek relationship based on mutual trust and good neighborly relations. He says more dialogue will bring dogfights over the Aegean to an end. Davutoğlu is expected to visit Athens in the fall.
An improving dialogue between Turkey and Greece seeks to minimize potential risks over the Aegean by grounding the so-called dog-fighting between the two countries' militaries and further promoting areas of common interest, the Turkish foreign minister said Friday.
"We have differing positions with Greece on certain subjects but the way to overcome them is with dialogue. If the dialogue is not enough, then more dialogue. There is no other alternative," Foreign Minister Ahmet Davutoğlu told a small group of journalists in the Central Anatolian province of Konya, where he attended a rally ahead of the Sept. 12 constitutional referendum.
"Just as the difference in opinions between Turkey and Greece over the Aegean and other areas, we also have areas of common interest. To expand common interests and to minimize differences – this is the objective of our explorative talks," said Davutoğlu.
The 46th round of exploratory talks between the Turkish and Greek foreign ministries' diplomats took place in Athens on Friday.
The foreign minister said the talks focused on overcoming differences over a wide range of issues, including the Aegean disputes, through confidence-building measures that resumed after the Papandreou government took office in Athens after a long break. He said the resumption of talks was complementary to efforts to establish a high-level strategic cooperation council between Turkey and Greece and increase bilateral political consultations.
Davutoğlu said he would visit Greece in the fall, which follows a recent trip to Turkey by Greece's Alternate Foreign Minister Dimitris Droutsas.
"Right now there is an optimistic process ahead of us that continues on the basis of bona fide and mutual trust," Davutoğlu said.
Two Greek F-16 aircrafts crashed Thursday during a dog-fight exercise, a military practice aimed at training Greek jets against interceptions with Turkey over the Aegean. One Greek pilot reportedly died during the exercise.
Asked if exploratory talks would bring a halt to dogfights over the Aegean, Davutoğlu said: "That is our objective. Why are those talks being held? Not just for the sake of meeting but to minimize risks over the Aegean and expand common interest areas. I hope any negativity can be overcome based on good neighborly relations."
/Hurriyet Daily News/