Davutoğlu said in unambiguous terms that Turkey would not open its border with the neighbor to enable a NATO disaster relief exercise scheduled for September.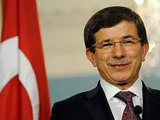 "Turkey, as a NATO member, will take part in this exercise," said Davutoğlu. "However, it is not possible to open the border with Armenia, even temporarily."
Ankara has decided to participate in the NATO Euro-Atlantic Disaster Response Coordination Center exercise, set to be held in the central Kotayk region of Armenia.
Exercises are scheduled to run between Sept. 11 and 17. However, the speculation that Turkey may consider temporarily opening its closed border with Yerevan drew criticism from Azerbaijan.
Davutoğlu said he had also spoken to Azerbaijani media, reiterating that the border would not be opened. He did say however that Turkey would make humanitarian contributions during the drills.
Davutoğlu's remarks came in Doğanhisar, 120 kilometers from the Central Anatolian province of Konya, where he stopped to participate in a rally ahead of the Sept. 12 constitutional referendum. Konya is the foreign minister's hometown.
/AzerTAc/