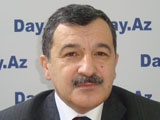 The Azerbaijani MPs believe extension of term of the Gyumri military base will have a negative impact on security and stability in the region. The relevant agreement is expected to be signed during Russian President Dmitry Medvedev's Armenia visit.
Armenia periodically encroaches on the territory of neighboring countries or claims on the territory.  It does not have normal relations with any of the neighboring countries, MP Aydin Mirzazade told Trend.
Medvedev will visit Yerevan Aug.19. During the visit, the sides will sign a number of treaties and agreements, as well as an agreement to extend the term of military base No. 102.
"If one of the reasons is the dominant ideology of Armenian nationalism, the second reason is usage of the Russian bases inside the country by Armenia," Mirzazade said.
According to him, the expected signing of the document will strengthen the Armenian claims and will have a negative impact on the situation in the region.
"In fact, Armenia is more militarized, and, given its claims on the territory of neighboring countries, this fact is even more upsets stability in the region," Mirzazade said.
Mirzazade believes Russia has a very low-key policy in the South Caucasus, but tomorrow Russia will be responsible for creating this situation.
MP Asim Mollazade believes if this document signed, Armenia will serve as a long outpost.
"The Armenian armed forces are formed on the basis of the Russian military base, and Armenia, in response to it creates the possibility of privatization much of its economy by Russia," Mollazade told Trend.  
A significant portion of the population leaves the country. This means that the socio-economic problems are already causing the tragedy in Armenia that turned into an outpost of some country, he said.  
"This country, performing only the function of the military base, wants to continue aggressive policy aimed at eliminating the possibility of positive processes in the region," Mollazade said.
/Trend/