Iran said it would build a new uranium enrichment site by early next year, state media reported Monday.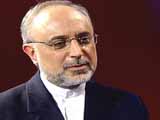 The head of the Iranian Atomic Organization, Ali-Akbar Salehi, had said February that it would build 10 new enrichment sites within a year. Salehi said on state television Monday that the construction of at least one of the new plants would start by March 2011 but gave no details about its location. Iran currently has uranium conversion sites in Isfahan and Natanz, both in the central region.
A third enrichment site is currently under construction in the Fordo village near the holy city of Qom, about 100 kilometres south of Tehran. The Fordo site is scheduled to become operational by the end of 2010 and at least 3,000 centrifuges are to be installed there. Iran says it ultimately aims to build 10 to 20 more sites to make enough nuclear fuel to cover its electricity needs.
The government has reportedly already chosen the locations for five more sites but no details are yet available. Russia announced Friday that it would provide the fuel for Iran's first nuclear power plant at Bushehr. Inspectors from the International Atomic Energy Agency (IAEA) were to attend the handover ceremony scheduled for August 21.
President Mahmoud Ahmadinejad ordered the government to enforce a law approved by the parliament last month to limit cooperation with the IAEA to the Non-Proliferation Treaty (NPT) framework. According to the framework, IAEA inspections of the nuclear sites would be more limited and not allow any unannounced visits.
The parliamentary bill and presidential order were mostly symbolic since Iran had suspended implementation of the IAEA Additional Protocol since 2005 and cooperates solely within the NPT framework. Ahmadinejad also ordered the government to pursue 20-per-cent uranium enrichment in the Natanz nuclear plant in central Iran and work on production of fuel rods for the Tehran medical reactor.
Iran began the enrichment process in February. Tehran claimed to have already produced 20 kilograms of 20-per-cent enriched uranium. The government also claimed it would be able to produce fuel rods for the Tehran reactor by March 2011, and then begin construction of a new reactor to replace it.
/Trend/