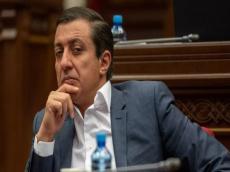 By Azernews
Major General Mihran Poghosyan, the former head of Armenia's Forced Executive Service, has been detained in Moscow, according to local media outlets, Azernews reports.
It was noted that the wanted Armenian general was detained yesterday. It is planned to extradite Poghosyan from Russia in the near future.
Mihran Poghosyan is charged under a number of articles of the Criminal Code of Armenia, including abuse of office and tax evasion.
In addition, the Armenian general said in May that tonnes of drugs were stored in a warehouse in Armenia. It was after this statement that Poghosyan was searched.