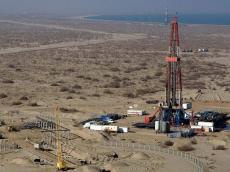 An initial agreement has been reached with Turkmenistan regarding the import of gas for the operation of their power plants, announced Iraqi authorities, Azernews reports, citing Central Asian Light.
The agreement between the two countries was reached after negotiations in Ashgabat, Iraq's Deputy Minister of Oil responsible for gas supplies, Ezzat Sabir said.
Details will be reflected in the relevant agreement. "The agreement, which will be signed closer to the end of the year, will determine the volumes of gas that Turkmenistan will supply to Iraq," reported Orient.tam, citing Sabir. The import of natural gas will be required to meet part of the country's power plant needs.
Sabir referred to the agreement as a significant step in expanding cooperation with Turkmenistan, which is one of the most important gas-producing countries in the region and the world.