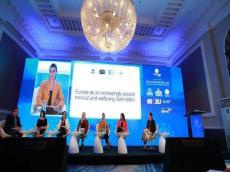 Georgian Deputy Economy Minister Mariam Kvrivishvili on Saturday introduced the country's balneological and medical tourism potential to the representatives of the European tourism industry at the 68th European Commission of the United Nations World Tourism Organisation in Bulgaria, Azernews reports, citing Agenda.
Kvrivishvili participated in the panel discussion under the theme Europe as an Increasingly Popular Medical and Wellbeing Destination, where she reviewed ongoing and planned projects of Georgia, the Economy Ministry said.
She highlighted the Abastumani and Tskaltubo projects, initiated by Prime Minister Irakli Garibashvili, which involve $1 billion investments for the rehabilitation of Georgia's resorts, including the renovation of infrastructure.
Kvrivishvili emphasised the projects would promote the strengthening of the country's economy and the diversification of tourism products and stressed the rehabilitation and development of Georgian resorts would contribute to creating new jobs and increasing tourist flows in the country.