Discussions of recent events in Yerevan were held at yesterday's meeting of Musavat party Divan.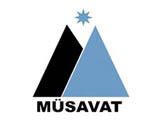 It was noted that the responsibility for falsifications, tragic event and death of 8 people falls not only on Kocharyan-Sarkisyan's regime, but also on international structures.
A statement has been adopted on the issue.
The statement says elections in Armenia were important for democratic processes on the post-Soviet area and resolution of conflicts in the South Caucasus. However, rude violations were committed both in the election period and on the voting day.
"When tens of thousands of people protested against these falsifications, the ruling regime treated them the way they treated peaceful Azerbaijani population in Nagorno Karabakh. This killed 8 and injured tens of people. The loyal attitude of international structures to the developments creates particular concern", the statement says.
The Musavat party disapproves falsification of elections, dispersing of peaceful protesters, restriction of political rights by declaring emergency state and calls on the international community to pay special attention to processes in Armenia.
/Day.Az/