Ahead of the eve of the third anniversary of the death of a prominent Azerbaijani journalist Elmar H?seynov, Amnesty International is reiterating its call to the Azerbaijani authorities to fulfil their international and domestic obligations to guarantee the right to freedom of expression.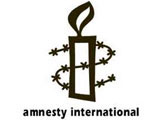 On 2 March 2005, Elmar H?seynov, editor-in-chief of the outspoken weekly newspaper Monitor, was shot and killed outside his home in Baku. His colleagues and international press freedom organizations ascribed his murder to the political content of his newspaper.
Amnesty International has documented cases of journalists striving to expose the misuse of government power, who are increasingly living under the threat of politically motivated arrests, physical assault and even death.
The organization has noted that predominantly journalists associated with the opposition are the victims of physical assault. As a rule, investigations into these physical assaults do not lead to convictions, thus contributing to a climate of impunity for such attacks.
In its latest document, Azerbaijan: Mixed messages on freedom of expression, Amnesty International calls on the Azerbaijani authorities to ensure a climate in which critical and alternative viewpoints can be expressed without fear of repression.