Senior Serbian politicians agreed Monday to let the republic's newly elected assembly map out a response to a U.N. plan for Kosovo, which Serbs see as granting independence to the contested province.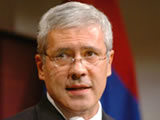 President Boris Tadic and the leaders of key political parties said after a three-hour meeting that the new parliament, elected last month, should convene as soon as possible. No date for the session was immediately set.
Tadic called Monday's gathering to inform Serbia's main politicians about the Kosovo proposal presented to Serbian and ethnic Albanian leaders last week by U.N. envoy Martti Ahtisaari.
Tadic has rejected the plan, saying it paves the way for the independence of Kosovo, a predominantly ethnic Albanian province that Serbs regard as the historic heartland of their nation.
In a statement issued after the Monday meeting Tadic reiterated that the plan in its current form is "not acceptable for the Republic of Serbia."
Kosovo has been an international protectorate since the end of the 1998-99 war between Serb forces and ethnic Albanian separatists prompted NATO intervention.
The U.N. plan envisages internationally supervised self-rule for Kosovo, which would have its own constitution, flag, anthem and be eligible for membership in international organizations.
Serbian leaders, who are trying to form a new government after the Jan. 21 parliamentary elections, have been invited to offer suggestions on the plan before it goes to the U.N. Security Council, which must approve it.
Ahtisaari has called the first round of consultations for Feb. 13 in Vienna, Austria.
It was not immediately clear who from Serbia will travel to the Vienna talks. Tadic's statement said a Serbian negotiating team should go after it wins backing from the parliament. Other leaders suggested Tadic should go on his own.
Serbian election authorities have said that the parliament can meet after a repeat vote is held this week at several polling stations.
When it convenes, the 250-member parliament is likely to come up with a defiant rejection of the Ahtisaari plan. The assembly is dominated by parties that take a hardline stance on Kosovo. Some politicians have even suggested that ties should be cut with any country that recognizes an independent Kosovo.
Serbia has relied on support from Russia and insists that resolving the Kosovo issue requires full consent from both sides in the dispute.
Meanwhile, the U.S. envoy to Kosovo, Frank Wisner, met with ethnic Albanian leaders in the southern province, reiterating support for the U.N. plan and urging Russia to cooperate. Wisner is due in Belgrade on Tuesday.
Serbia proposed broad autonomy for Kosovo but without a redrawing of borders or full secession of the province.
Ahtisaari proposed autonomy for the Serb minority within Kosovo, but the community leaders said it falls short of ensuring protection for them and scheduled protests against the proposal for Friday. The Associated Press
/The International Herald Tribune/