Meeting and conference will be held on the 15th anniversary of Khojali genocide in The Hague, Netherlands on February 25, organizer of the event, the Head of Igdir municipality Nureddin Aras stated.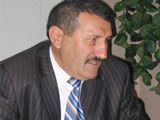 He said that the preparations for the event have already finished and all Azerbaijanis living in the Netherlands will be invited to the ceremonies on the anniversary of Khojali genocide, APA reports.
"1245 families moved from Igdir live in the Hague. It means 5000-6000 Azerbaijani Turks of Igdir origin. Besides, a lot of Igdir Azerbaijanis live in the other cities of the Netherlands, as well as in Eindhoven. We know all of them, have contacts, we have invited all Igdir people to the commemoration ceremony of Khojali genocide for the first time to be held in the centre of Europe. We will decorate all streets of the Hague with the photos showing Armenian savagery, posters, slogans," he said.
Aras said they will expose Armenia's "face" and hold a great event. He wished the members of the government, parliament leadership and parliamentarians from Azerbaijan to participate in the action. Igdir municipality has already published the invitations to the ceremony, the books and brochures to be delivered to the participants. The materials showing Armenian savagery and historical facts are reflected in the brochure "Khojali genocide".
The conference "Khojali genocide" to be held in The Hague will last 6 hours. The film on Khojali genocide will be demonstrated at the beginning of the conference. Professor Anvar Konukchu will begin the conference, then the former Extraordinary and Plenipotentiary Ambassador, the author of over 20 books on Armenian terrorism, as well as of the book "Our martyr diplomats" Bilal Shimshir will make a speech on the theme "Azerbaijan regaining independence and Armenians".
Resigned Army General Nejati Ozgen will make a speech on the theme "Armenians' foreign policy, Karabakh's occupation and Khojali genocide", MP Yagub Mammadov on the theme "Absurd idea of "Great Armenia", ideology of terror, genocide and attack", Professor Kerim Shukurov on the theme "Removal of Armenians to the South Caucasus", researcher Yalchin Sarikaya on the theme "Traditional Armenian terror policy: nationalizing terror and Khojali genocide" in the first part of the conference. MP, historian Yagub Mammadov will lead the second part of the conference. Professor Anvar Konukchu will make a report on "Viewing Khojali genocide from Turkey". Besides, professor Osman Metin Ozturk will make a speech on the theme "Ideal of Great Armenia and Khojali genocide", researcher Arslanturk Akyildiz on the theme "Armenian attack and terror", Havva Mammadova on the theme "Armenian vandalism, Khojali genocide", Safa Yoruel on the theme "Strategy to pay attention to in Karabakh genocide". The conference will continue by questions. At the end of the conference to last 6 hours the participants will be delivered books, brochures and CDs reflecting Khojali genocide.
The conference will be covered by Azerbaijani and Turkish mass media and the representatives of the leading TV channels and newspapers of Europe.