NATO supports peaceful, negotiation solution of all conflicts in the South Caucasus.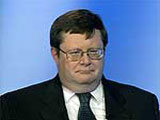 The countries in the region should find solutions of existing conflicts themselves, using the existing structures, stated Robert Simmons, the NATO General Secretary's Special Representative for South Caucasus and Central Asia.
"Undoubtedly, NATO supports OSCE Minsk Group, and particularly, those efforts, which the CO-Chairs perform for peaceful solution of the Nagorno Karabakh conflict. We welcome the progress, which was reached during meetings between presidents and foreign ministers of Armenia and Azerbaijan," Simmons said.
He also stressed that in this case NATO does not play a direct role, which anyhow could break the direct talks between the conflicting sides or OSCE MG Chairmanship's efforts, APA reports.