The Joint Statement on results of state visit of the Azerbaijan President Ilham Aliyev to France adopted in Paris runs: "Azerbaijan and France adhere to the principles and goals mentioned in the "Agreement on friendship, mutual understanding and cooperation between the Republic of Azerbaijan and the Republic of France."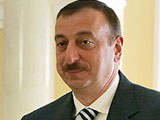 "In this framework, France stated once again its support for independence and territorial integrity of Azerbaijan. Both countries stressed importance of the development of bilateral relations and necessity of continuation of the active and deeper political dialogue at all levels."
The parties stated their keenness in development of their relations in the frame of respect for universal values as human rights and democracy, legal state and market economy.
The parties have specified the questions of mutual cooperation, noting "Azerbaijan and France mark their satisfaction with the level of cooperation in energy field and participation of the French companies in Azerbaijan's economy."
The sides have welcomed positive tendency in the trade between two countries and approved their readiness for deepening the economic ties and expressed wish to make further efforts to boost the French investments in Azerbaijan.
Both countries noted their adherence to deepening of existent cooperation in the field of culture, health and social security, as well as organizing of mutual days of culture.
The Statement also contains the issues related to global threats and the Armenia-Azerbaijan, Nagorno Karabakh conflict: "Azerbaijan and France confirmed their readiness for bilateral and multilateral cooperation in further combat against global threats as international terrorism, illegal drug circulation and narco-trafficking and their realization, proliferation of mass destruction weapons, transnational organized crimes, illegal arm and human trade."
Both countries with pleasure have noted rapprochement of their positions in coordination of the basic principles for settlement of the Nagorno Karabakh problem with the mediation of the OSCE Minsk Group co-chairs from Russia, USA and France.
They emphasized the necessity of making more active efforts for peaceful resolution to the conflict.
The parties have welcomed signing of the plan of action between EU and Azerbaijan in the fame of New Neighborhood Policy, noting this policy would contribute to the realization of political and economic reforms in the South Caucasus and region.
They expressed their support for necessity of inter-cultural and inter-religion dialogue, as well as expansion of these relations and deepening of understanding to create reliable environment for peace, freedom and social justice.
The parties have agreed for continuation of mutual visits at all levels. President of France is going to visit Azerbaijan in the first half of 2007. AzerTAg