Azerbaijani President Ilham Aliyev began his visit to France by visiting Paris Mayor's Office on Tuesday.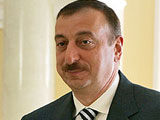 The head of the state was welcomed by Mayor of Paris Bertran Delanoe. After the meeting with the mayor a reception was given in honour of the Azerbaijani President.
Azerbaijani President is also expected to meet with the Prime Minister of France Dominique de Villepin, President of the French Senate Mr. Christian Ponsele, President of French National Assembly Jean-Louis Debre, French Foreign Minister Phillip Dust-Blazi, French Defence Minister Michele Alliot-Marie, Minister of Agriculture and Fishing Dominique Bussereau, Minister Delegate for Veterans' Affairs Hamlaoui Mekachera today. Several agreements are expected to be signed within the visit.
The president is accompanied by Minister of Foreign Affairs Elmar Mammadyarov, Emergencies Minister Kemaleddin Heydarov, Minister of Economic Development Heydar Babayev and other members of the government and businessmen, APA European bureau reports.