Azerbaijani embassy published book in German on the 15th anniversary of Khojali genocide.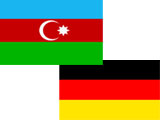 Second secretary of Azerbaijani embassy in Germany Nasimi Agayev told the APA that thorough information about Khojali genocide, testimonies of the genocide witnesses, the articles published on that terrible event in the Western press, documents and reports of "Human Rights Watch" organization, "Memorial" Human Rights Center, Parlaimentary Assembly of the Council of Europe, photos, and list of murdered children are reflected in the book.
The book will be presented in the event to be held by the embassy in Berlin on occasion of the 15th anniversary of Khojali genocide on February 26.
Besides, the embassy will spread the book among different state bodies, Bundestag, members of Landtag, mass media and general public.