Energy is again on the front pages of Europe's newspapers. The Gazprom story from last year, when the Russian energy giant forced Ukraine to accept higher gas prices, was repeated this year in Azerbaijan, Georgia and Belarus.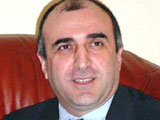 Almost overnight, the price of gas has more than doubled for us. This is more than just a market message and it is unacceptable for Azerbaijan. In response, we have decided to stop buying Russian gas as well as to stop using the Russian pipeline to export Azerbaijani oil to Europe.
This is a defining moment for Azerbaijan and the South Caucasus as a whole. It is Azerbaijan's sincere wish to have a pragmatic, market-driven relationship with Russia, but as an independent state we are guided by our national interest.
The South Caucasus region is reforming and growing economically. Azerbaijan is committed to a peaceful settlement of the Armenia-Azerbaijan Nagorno-Karabakh conflict. In order to move beyond our differences, we need to agree on three redlines: no partition; no occupation; and the return of internally displaced persons to their homes. Armenia must withdraw its armed forces from the occupied Azerbaijani territories, while we must secure and guarantee maximum rights for the minorities. This is the way to a durable solution.
It is in our interest that all frozen conflicts in the region are resolved in adherence to the principle of territorial integrity of all three South Caucasus states: Azerbaijan, Armenia and Georgia. This was also most recently expressed in the Riga NATO Summit Declaration. A solution to the Armenia-Azerbaijan Nagorno-Karabakh conflict should not be delayed. The conflict is undermining our regional potential and it could cost us a closer partnership with the European Union and NATO.
The South Caucasus-Caspian region offers enormous strategic benefits to Europe. The region is not only energy-rich, but it also links Central Asia with Europe. Baku is the only capital city on the Caspian coast and as such it serves as a logistics center and a hub connecting energy and transportation infrastructure between Asia and Europe. Baku is an ideal location from which to influence economic and political trends in Central Asia.
Azerbaijan is a secular Shia state -- the only such state. We have an open and constructive relationship with Iran. The main trade corridor connecting Iran and Russia passes through eastern Azerbaijan. Discussions are under way to link Azerbaijani and Kazakh oil infrastructures to export Kazakh oil to Europe.
The European Commission last week published a comprehensive strategy paper on energy, suggesting new measures and targets for Europe in energy conservation, renewable energy and infrastructure design. The Commission also made explicit references to market integration, solidarity and diversification of imports. Caspian energy is relevant in this context for at least two reasons.
First, Caspian gas and oil would allow Europe to reduce its dependence on unreliable energy suppliers as well as improve its capacity to meet its energy needs in the medium term. Second, gas is predicted to become the fastest-growing energy source, increasing its share of total EU consumption to 30% in 2030 from 24% now. This is another reason why accessing new markets should be a strategic priority for the EU. At the same time, European know-how and investments will be needed to increase the downstream capacity of the Caspian, which remains an underutilized energy basin.
October's "Memorandum of Understanding on a Strategic Partnership" between the European Union and the Republic of Azerbaijan in the field of energy is a step in the right direction. This is also an opportune moment to start thinking about integrating the EU and South Caucasus energy markets through Romania, Bulgaria, Ukraine, Moldova, Turkey and Greece. Such a move would optimize electricity exchanges between Europe and the South Caucasus by integrating electricity grids and prioritizing new projects. It would also further protect us against market bullies.
In order to capitalize on the closer cooperation with Europe, the Caucasus must grow its market economies and democracies. Reforms are a precondition to the region's long-term economic progress. However, it is the Euro-Atlantic cooperation which makes these reforms all the more meaningful.
Mr. Mammadyarov is foreign minister of Azerbaijan
Article was published in The Wall Street Journal