Armenian President Robert Kocharian will again travel to Russia next week for talks with his Russian counterpart Vladimir Putin, the Kremlin said on Thursday.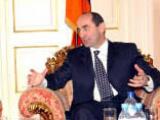 The announcement followed Kocharian's Wednesday visit to Moscow that was shrouded in secrecy. His office declined to release any details of the one-day trip, saying only that it is "private."
Sources in the Russian capital told RFE/RL that Kocharian and Putin held an "informal" meeting that apparently focused on Armenia's upcoming crucial parliamentary elections.
The Kremlin did not confirm or refute the information. The Russian president's press service announced instead that Putin will receive Kocharian in his summer retreat near the Black Sea city of Sochi on January 24.
Officials there told RFE/RL that the two leaders will discuss Russian companies' involvement in Armenia's energy sector and ways of further boosting bilateral trade that rose by 25 percent to $376 million during the first nine months of last year.
Kocharian's previous visit to Moscow in late October was followed by the official confirmation of reports that Yerevan has agreed to give the Russian gas monopoly Gazprom a controlling share in Armenia's natural gas distribution network. The ARG network is in turn widely expected to gain control of a newly built gas pipeline from Iran.
According to Kremlin officials, Putin and Kocharian will also discuss international efforts to resolve the Nagorno- arabakh conflict.
Incidentally, the Sochi talks will take place the day after a planned meeting in Moscow of the foreign ministers of Armenia and Azerbaijan. A team of French, Russian and U.S. mediators is due to press the two sides to build on substantial progress that appears to have been made by them in the last few years. RFE/RL