New Ambassador of Georgia will be appointed to Azerbaijan.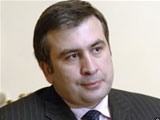 President Mikhail Saakashvili has put up Deputy Foreign Minister Nikoloz Natbiladze's candidate. The new ambassador's candidacy will be approved after spring session of the parliament begins (evidently on February 13), APA Georgian bureau reports.
Nikoloz Natbiladze was born in 1971 in Tbilisi. He has been Deputy Foreign Minister since 2005.
Zurab Gumberidze leads the Georgian diplomatic mission in Azerbaijan at the moment.