Date and place of OSCE trio foreign ministers meeting has been changed.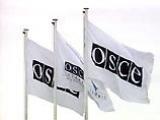 The meeting was brought forward from January 12 to January 22, OSCE General Office Press Officer Susanna Loof told APA.
She stated that the place of the meeting was also changed. The foreign ministers will meet in Brussels, not in Vienna. The changes were made as the schedules of the ministers did not coordinate. OSCE trio is composed of former (Belgium), present (Spain) and future secretary general (Finland).