Iranian reformist parliamentarians on Saturday blamed President Mahmoud Ahmadinejad's government for failing to prevent United Nations sanctions.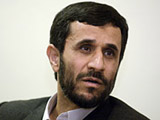 The U.N. Security Council voted unanimously on December 23 to impose sanctions on Iran's trade in sensitive nuclear materials and technology in an attempt to stop uranium enrichment work that could produce material that could be used in bombs.
Iran says it wants nuclear power to generate electricity.
Reformist former President Mohammad Khatami suspended Iran's nuclear work for more than two years in an effort to build confidence and avoid confrontation with the West, but resumed uranium enrichment in February last year.
"The only way to pass the crisis is to build confidence ... but a holding Holocaust conference and financing the Hamas government creates mistrust and tension," Noureddin Pirmoazzen, the spokesman of parliament's reformist faction, told Reuters.
Ahmadinejad's government hosted a conference in Tehran in December, where participants questioned the Holocaust. It also granted $250 million in aid to the Palestinian Hamas government after Western donors withheld funds.
After two election landslides that brought Khatami to office in 1997 and 2001, Iran's reformers suffered a series on poll setbacks with voters disillusioned at their inability to carry out their policies due to conservative opposition.
The culmination of the reformers' defeats came in 2005 when voters elected the hardline Ahmadinejad who promised to use Iran's large oil revenues to help the poor.
But the reformers made a strong showing at local council elections in December, with many voters worried about Iran's increasing diplomatic isolation and economic problems.
Pirmoazzen said that two U.N. resolutions against Iran in the first 18 months of the government's term in office showed the foreign ministry was incapable of looking after Iran's national interests.
"We hope to witness a return to the manner of Khatami's government and see the crisis is solved in the next 60 days, or else we will have no alternative but to impeach Foreign Minister Manouchehr Mottaki," Pirmoazzen said.
Any request to impeach a minister needs to be signed by at least 10 lawmakers. Pirmoazzen said that even without the support of majority conservative deputies, the 42-member reformist faction had enough votes to call an impeachment debate. But the impeachment motion would be unlikely to succeed.
In a separate bid, reformist lawmakers also want Ahmadinejad to come to parliament to answer questions on his government's domestic and foreign policies. But there was little chance of the motion succeeding as it would need 72 lawmakers to sign it.
"Although some 150 lawmakers may have questions from Ahmadinejad, it does not mean that the same number of signatures can be collected to support the plan," Akbar Alami, the lawmaker who has launched the plan, told Reuters.
Alami declined to elaborate on what the questions he would like to ask the president, but said they included matters of foreign policy.
"We have tried to bring up those questions in several ways but have received no convincing answers yet," Alami said, "We are waiting for appropriate timely conditions to bring up the questions," he said.
Ahmadinejad has called the Security Council's resolution a "piece of scrap paper" and has vowed to press ahead with Iran's peaceful nuclear program, which the West fears may be a covert plan to make atomic weapons. Reuters