In the frame of consultations between the foreign ministries of two countries, Khalaf Khalafov, Deputy Foreign Minister, has visited Morocco.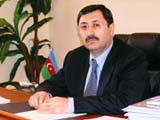 On January 4, Khalafov and the Moroccan Deputy Minister of Foreign Affairs, Tayeb Fassi-Fihri have discussed issues of bilateral cooperation, as well as the questions related to international and regional problems representing mutual interest.
In meeting, the sides emphasized necessity of the continuation of political dialogue between the two countries, also stressed the presence of political will of both sides. The two countries and peoples have historically developed relations to deepen cooperation in numerous fields. There is great potential for wider cooperation between the Azerbaijan republic and the kingdom of Morocco, the sides noted.
The Embassy of Azerbaijan is already functioning in the Kingdom and will have strong impulse for further development of bilateral relations between friendly and fraternal countries. Also was noted the necessity of opening of the embassy of Morocco in Azerbaijan.
Moroccan Deputy Minister of Foreign Affairs conveyed to President Ilham Aliyev the greetings of Mohammad VI, the King of Morocco.
The sides have discussed some projects and coordinated.
During his visit Khalafov has met with the chairman of the House of Representatives of the Moroccan Parliament to discuss the strengthening of inter-parliamentary links, mutual visits of parliament delegations.
The second day, Khalafov has visited the city of Morocco, met with governor of the city. AzerTAg