Investigators have identified two guards who illicitly filmed Saddam Hussein's execution, an official said today, as the Iraqi Government sought to dampen growing outrage from Sunni Arabs over the unruly hanging.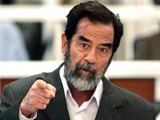 The mobile phone video of Shiite officials taunting Saddam on the gallows has inflamed sectarian passions in a country on the brink of civil war.
"Two Justice Ministry guards have been arrested. Other guards have identified them as having filmed the hanging," Prime Minister Nuri al-Maliki's aide Sami al-Askari said.
US President George W. Bush spoke to Mr Maliki in a secure video conference today and agreed that investigating the recording of the execution was the right thing to do, White House spokesman Tony Snow said.
Mr Bush, who is developing a new strategy on Iraq that could be unveiled as early as next week, spoke to Mr Maliki about the "way forward" but not about his specific plan.
One option Mr Bush is considering is a temporary increase in troops, but Mr Snow would not say whether that was discussed in the conversation with Mr Maliki.
"They were talking about the importance of having sufficient force within Baghdad to create a stable situation within the city," Mr Snow said.
Michigan Democrat Senator Carl Levin said Mr Bush was likely to link any short-term increase in US troop levels to certain conditions.
Mr Levin, incoming chairman of the Senate Armed Services Committee, said he believed Mr Bush would "at a minimum" reverse the open-ended nature of the US troop commitment in Iraq.
A short-term troop increase is one of the policy changes under consideration which has won most attention in Washington, as US military casualties in Iraq have climbed above 3000.
An American soldier was killed in western Baghdad on Thursday after his patrol came under attack from small arms fire, the U.S. military said.
Two bombs exploded earlier near a petrol station in Baghdad's western Mansour district, killing at least 13 people and wounding 22, police said.
A prosecutor who attended Saddam's execution said he had seen two senior officials filming the hanging, prompting suggestions among some Iraqis that the guards might be used as scapegoats.
Interior Minister Jawad al-Bolani said: "The investigation is ongoing and we have identified those who flouted the rules ... Even for a dictator like Saddam, the law must be obeyed."
The images, which show observers yelling "Go to hell" and chanting the name of a radical Shiite cleric before Saddam falls through the trap, have sparked angry demonstrations by Saddam's fellow Sunnis, fearful of Shiite ascendancy. Moderate Sunnis say it deals a blow to Mr Maliki's call for reconciliation.
Philip Alston, the United Nations' special rapporteur on extrajudicial, summary or arbitrary executions, said the "humiliating" way in which Saddam was put to death was a clear violation of international human rights law.
The US military, which kept physical custody of Saddam for three years, said it had played no role in the execution and would have done things "differently".
Barzan al-Tikriti, one of Saddam's half-brothers and his former intelligence chief, and Awad al-Bander, a former judge, were found guilty with Saddam two months ago over the killings of 148 Shiite men from the town of Dujail in the 1980s. Bander presided over the court that ordered the men's deaths.
Officials have said they will take more precautions for the executions of Barzan and Bander, including checking witnesses for cameras and mobile phones.
Bahaa al-Araji, a lawmaker for radical Shiite cleric Moqtada al-Sadr's political group, said he believed the executions would be delayed until Sunday, the first working day after the weekend and the Eid al-Adha holiday.
Thousands of Sunni Arabs have marched in the Sunni heartland to vent anger at the execution, and mourners have flocked to Saddam's grave in his home village of Awja.
On Thursday, hundreds of Shiites marched in the southern city of Basra to support the execution in a demonstration organised by the local office of Mr Maliki's Dawa party.
/www.news.com.au/