According to the "State program of technical development of the system of protection of borders of the Azerbaijan Republic in 2006-2010," the Southern Division of the Coast Guard of the State Frontier Service was set in settlement Keledehne, city of Astara.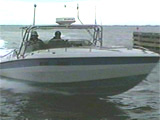 The base on distance of 110 sea miles from Baku, along with prevention of illegal migration, contraband, transportation of narcotics, traffic in arms and ammunition, illegal fishing, will promote carrying out of operative measures at protection of borders in Southern region.
By means of the modern equipment installed here, the territories of Caspian Sea concerning Azerbaijan will be under the boundary control.
The base includes the headquarters, barracks, and moorings for the ships and a two-storied 16-room apartment house for officers.
After the chief of the State Frontier Service, Commander-In-Chief of Frontier Troops, lieutenant-general Elchin Guliyev welcomed staff, the deputy chief of the State Frontier Service on Coast Guard, major-general Ilham Mehdiyev has read at appropriate order about the beginning of activity of the Southern Coast Guard Division.
Lieutenant-general Elchin Guliyev has congratulated the staff on the beginning of activity of the Division. He has highly estimated merits of the nationwide leader Heydar Aliyev in creation of the State Frontier Service, has noted the tasks the Coast Guard will face on reliable protection of state borders, protection of biological resources, power resources, underwater export of oil-and gas mains, platforms in the Azerbaijan sector of the Caspian, combat against the international terrorism, illegal migration and contraband in Caspian Sea.
He has wished the staff of Division successes in their difficult and honorable activity. AzerTAg