Speaker of Turkmen Parliament Ovezgeldy Atayev has been arrested.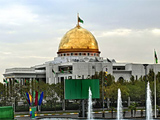 Criminal proceedings were instituted against the speaker two hours later the news about Saparmurat Niyazov's death was announced. Under the Constitution, the presidential powers must be transferred to the parliament speaker, APA special reporter in Turkmenistan reports.
Though Turkmen state television reported that the presidential powers will be transferred to the speaker Ovezgeldy Atayev, later it was announced that the presidential powers were transferred to Deputy Premier Gurbangulu Berdimukhammedov.
Though it was reported that criminal proceedings were instituted against Ovezgeldy Atayev and he was arrested it is not clarified what he is accused of.
A Turkmen source said there are doubts that the president did not die a natural death.
Extraordinary session of the People's Council will be held on December 26. The time of presidential elections and Turkenbashi's heir will be determined.
Among the possible heirs the names of Akmurad Rajabov, the chairman of Special Guard Service and Niyazov's daughter living in Moscow Irina Niyazova are mentioned.
Officials of number counties have already confirmed their participation in the funeral.
Kazakhstan President Nursultan Nazarbayev, Ukrainian president Victor Yushchenko, Georgian Prime Minister Zurab Nogaydeli and Russian Prime Minister Mikhail Fradkov have confirmed their participation in the funeral.
The second secretary of the Azerbaijani embassy in Turkmenistan Ramiz Veliyev told the APA that the composition of the Azerbaijani delegation to participate in the funeral was not specified yet. He said the representatives of the embassy will participate in the funeral.