Meeting of Parliament permanent commission for security and defense was held on Wednesday.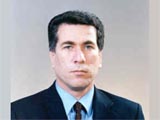 The amendments to the Basis of military legislation and State registry of Azerbaijani people were discussed at the meeting.
Commission Chief Ziyafet Asgerov stated that 23rd article of Basis of military legislation has been amended.
According to the amendment to Regulations on Identity cards adopted in 1994, the military status should be shown in the identity cards when citizens change this document at ages of 25, 35 and 50.
Both amendments were recommended to the Parliament after the discussion, APA reports.