The U.S. Assistant Secretary of State for Democracy, Human Rights and Labor Barry F. Lowenkron is in visit to Azerbaijan and he met with the chiefs of Rights' Defense organizations.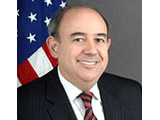 Introducing the guest to the chiefs of the organizations, the U.S Ambassador Anne Derse said that this is Lowenkron's first visit to Azerbaijan. Then Barry Lowenkron noted that there are three main points of the development of the democracy.
"First is the government got by voting (it includes media too), the second is the effective administration, and the third is the commitments of the governing power in front of the state," he said. Then the meeting continued without journalists.
After the meeting the right defender Murad Sadeddinov told the APA that, the representatives of NGO gave information to Lowenkron about social-political situation in Azerbaijan in the meeting. They stated that there are pressures on media and irregularities in the election system. They also talked about the tortures in police system in Azerbaijan.
According Saddeddinov's words, Lowenkron was satisfied with his meeting, and stated that he will come to Azerbaijan again.
"Barry Lowenkron said that he would only work out generalized information about his visit," he said, APA reports.