Chief of the Committee Fighting against Torture, Elchin Behbudov met with ex-ministers Farhad Aliyev and Ali Insanov in the National Security Ministry ward.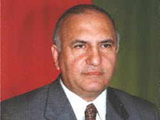 He said that both ministers are satisfied with conditions and attitude but they have health problem. "They said that they need treatment and asked me to appeal to relevant organizations on the issue. I appealed to the chief of ward and he told to solve the problem in a short time," he added.
He noted that Farhad Aliyev suffers from heart and blood pressure. And Ali Insanov suffers from waist and liver. "Both of them are dissatisfied with the investigation procedure and noted that they are innocent," the chief said, APA reports.