"If Azerbaijani and Armenian presidents meet, there are improvements in the talks," said Nizami Bahmanov, the head of the Azerbaijani community in Nagorno Karabakh.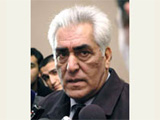 He told the APA that to hold talks within Prague process is a positive tendency. Nizami Bahmanov also took a stance on the visit of the head of Nagorno Karabakh separatists Arkadi Gukasyan to the US.
"Only Armenians can greet Gukasyan warmly in the US. The US officials do not recognize Gukasyan and his separatist regime. His meeting with the US co-chair Matthew Bryza has not been confirmed. But Matthew Bryza can meet with Gukasyan as the head of Armenian community. The co-chair meets with me, too. There is nothing unusual in this. It is absurd that Matthew Bryza did not visit the region because of his meeting with Gukasyan," he said.
Nizami Bahmanov said that he will visit foreign countries as the head of Azerbaijani community of Nagorno Karabakh.