"We realize both economic and political reforms. The political reforms should supplement the economic reforms. If strong public control and free society not formulated, there will be no future of economic successes," said President Ilham Aliyev said, while showing his attitude to the situations on media.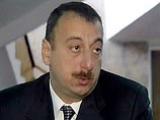 Saying that the removal of some newspapers from their premises has technical reasons, Ilham Aliyev stated that he is against of politicizing this problem. Ilham Aliyev said that some political parties try to use this case for their own goals.
"Azadliq newspaper was offered more comfortable and better place. Other newspapers also work in that building. There is freedom of media in Azerbaijan. Our freedom of speech and media is priority problem. We have achieved great successes in this sphere. No one should doubt that there is freedom of speech and media in Azerbaijan," president said.
Saying that close of ANS TV and ANS CM radio is also discussable matter, Ilham Aliyev noted that he always supported this channel.
"I was always near them in bad situations. I did it because I considered it important to strengthen independent media in Azerbaijan. But every case should be settled in the frame of law. Law is a law for every-one. Everyone - ordinary citizens, president, journalist and the chief of the channel should obey the rules. Some media think that to be the chief of the channel or the representative of the media gives him privilege. It is not this way. Every channel should obey the rules of the state bodies and Teleradio council. That is why I consider that if the channel fulfills the demands given in the warnings, the work of the channel will be continued," president said.
President stressed the importance of the law and said that all the problems will be regulated with the law, APA reports quoting AzTV.