A new sea border division for organizing the security of the Caspian Sea South shores will begin to work in December, the chief of State Border Service Elchin Guliyev told the journalists.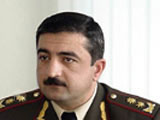 "Over 200 ships were detained and checked by SBS during passed period. Some months ago net of four km length was found, as a result of operations held in south and mid shores. At present the raids are being continued in the northern shores," Guliyev said.
He also said that they have all opportunities for controlling Azerbaijan sector of the Caspian Sea. Guliyev stated that SBS continues to expand international relations and cooperates with all Caspian states.
Saying that SBS Shore security was established in 2005, Guliyev noted that he centralized all institutions for organizing marine military activities.
"It improves the fight for international terrorism, illegal migration, illegal fishing, traffic of drugs and smuggling," he said, APA reports.