"The government does not form its policy on NGOs opinion. The essence of our policy is to reform those who are sentenced for committing crimes and make them decent citizens of the state. Those whose name is not in the list of pardoned ones are not satisfied with this policy," Ali Hasanov, the President's Office Socio-political Department chief, stated.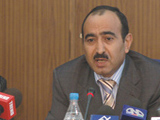 He said that two journalists have been released by the President's last pardon decree.
"The Press Council appealed to the president to pardon two journalists and the latter met the application. It is not correct to call Mirze Sakit a journalist of Azadlig newspaper. He is just a poet who writes satiric poems for the paper. His arrest has no relation to its creative activity. Mirze Sakit was arrested for his unacceptable behavior for Azerbaijani society," he said.
Hasanov also said that Azerbaijan owners the commitments taken upon before the CE and there is no need to bring the political prisoners problem to focus.
The chief also touched upon the discussions of freedom of gathering law in CE Venice Commission and said that they are waiting for the opinion of the Commission, APA reports.