Iran on Thursday rejected renewed charges by an Argentine prosecutor that it planned an attack on an Argentine Jewish community center in 1994 that killed 85 people, Iran's official news agency said.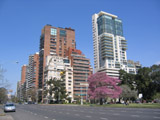 Prosecutor Alberto Nisman also said on Wednesday he sought the arrest of former Iranian President Akbar Hashemi Rafsanjani who was in office at the time of the attack in Buenos Aires.
Argentine authorities have repeatedly accused Iran of involvement, but this is the first time a former president has been called for questioning. Iran has always denied any role.
The judge overseeing the investigation must now decide whether to order international arrest warrants.
Foreign Ministry spokesman Mohammad Ali Hosseini "rejected the claims by some Argentinian judiciary officials and said the Islamic Republic is the victim itself of many terrorists acts," the official news agency IRNA reported.
Nisman said former Iranian officials ordered Lebanese Hezbollah guerrillas to carry out the 1994 attack during a meeting in the Iranian city of Mashhad in 1993.
No one has been convicted for blowing up the center, in part because judges determined in 2004 that a long investigation into the bombing had been botched. But they ordered the probe to continue.
"It is essential that the Argentinian officials avoid the past mistakes and make reasonable and accurate documentation the basis of any opinion," Hosseini was quoted as saying.
The attack on the AMIA center came two years after a bomb destroyed Israel's embassy in Buenos Aires, killing 29 people, in another case that Argentine courts never resolved.
Argentina is home to the largest Jewish community in Latin America. Reuters